Dentist in Fort Myers, FL
The brief descriptions below are designed to familiarize you with our staff's training, professional credentials and work experience.
Dr. Michael D. Sheffield-Dentist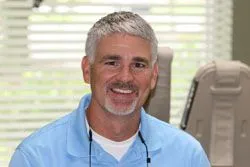 Dr. Michael Sheffield (Dr. Mike) is a native of Fort Myers. He attended St. Michael Lutheran School and graduated from North Fort Myers High School in 1986. Dr. Mike received a Bachelor of Science degree with Honors from Eckerd College in St. Petersburg, FL in 1990. He went on to earn his Doctorate of Dental Medicine degree from the University of Florida, College of Dentistry in 1994. Dr. Mike began practicing with his father, Dr. Robert Sheffield, in August of 1994 at the practice's original location on First Street in downtown Fort Myers.
Dr. Mike has completed over 2000 hours of continuing dental education over the past 20 years in order to better serve his patients' needs. His concentration is on comprehensively treating patients entire stomatognathic system including not only the teeth, but the associated jaw joint (TMJ), bones and muscles. A large part of this additional education was completed at the prestigious Pankey Institute in Key Biscayne, Florida.
Dr Mike is one of a select group of dentists nationwide to receive the Academy of General Dentistry's (AGD) prestigious Fellowship. As a Fellow of the Academy of General Dentistry (FAGD), Dr. Mike has been recognized by the Academy's members as a leader who is committed to excellence in patient care. The FAGD award symbolizes the professional responsibility of general dentists to remain current in their profession. To achieve this award, Dr. Mike completed a comprehensive written exam and a minimum of 500 hours of quality continuing dental education. Only 9% of dentists have achieved Fellowship.
Dr. Mike is an Associate Fellow of the American Academy of Implant Dentistry and is one of a select group of dentists to have been certified by his peers and has met national standards of education and practice in oral implantology. As an Associate Fellow of the AAID, Dr. Mike has been recognized by the Academy membership as one of the world's leading experts in implant care. To qualify for this award, Dr. Mike passed a written and oral examination as well as submit a series of required cases reviewed by the AAID board of examiners. The American Academy of Implant Dentistry is an organization dedicated to communicating scientific knowledge and improving the clinical practice of dental implantology worldwide. Dental implants are used to replace missing teeth and to secure dentures.
Additional Professional Affiliations
American Dental Association
Florida Dental Association
Lee County Dental Society
Society for the Preservation of Oral Health
Florida Academy of Cosmetic Dentistry
Dr. Mike has been married to his wife Tanya for 23 years. Tanya is originally from Angola, Indiana and graduated cum laude with a BS in Telecommunications from Ball State University in 1993. Tanya works part-time in the practice assisting with marketing and administration. They have three children Sarah Kate, Noah and Will.
Dana Rivera-Office Manager
Dana is our office manager and has been with Sheffield Dentistry since February 2017. She is originally from Brooklyn Park, MN. She graduated from Park Center High School and attended Minnesota State University, Mankato. Dana moved to Fort Myers in 2000 to work with the Minnesota Twins organization. After returning to Minnesota she moved back to Fort Myers in 2015. Dana worked in the pharmaceutical industry for 17 years and now in dental administration for over 12 years.
Dana and her husband John live in Cape Coral. She enjoys running and CrossFit, as well as spending time at the beach, gardening and traveling.
Leigh Franco-Dental Hygienist

Leigh has been with Sheffield Dentistry since September of 1999. Leigh was born and raised in Southwest Florida and graduated from LaBelle High School in 1988. Leigh attended the University of Florida and graduated from Palm Beach Community College in 1991 with an AS in Dental Hygiene. Leigh enjoys being a hygienist because she likes getting to know her patients on a personal level. Leigh's number one priority is making sure that her patients are practicing good oral hygiene so when she sees them they receive good results from their dental checkups!
Leigh is married to Matt Franco and they have three children, Tyler, Kyle and Madison.
Leyla Bozorgmanesh-Dental Hygienist

Leyla has been a dental hygienist for over 20 year. Originally from Iran, she moved to Miami in 1986 and recieved her degree from Miami Dade College in 1988.
Leyla moved to Fort Myers in 1997. She has been married to her her husband, Nima Mowzoon for 21 years. The have 2 children, Ari and Hannah. In her free time she enjoys fitness training and traveling.